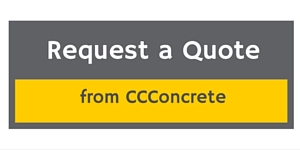 Concrete Wheelbarrow
The concrete wheelbarrow is used to carry concrete from the delivery truck to the installation site (if pulling the truck up to the site is not possible). Make sure that you use a heavy-duty, contractor-type wheelbarrow, as the smaller, garden variety with rubber wheels are not designed for the weight of concrete. In addition, filling these small wheelbarrows with concrete will make them essentially impossible to maneuver and cause spilling.
A good wheelbarrow should have the following:
Metal Uprights
Long Wood Handles - for easier control and maneuverability
Braced Front Nose Piece - which functions as a "stop" when the wheelbarrow is tipped upright to dump loads over forms into the slab areas
Have air-filled tires (not a solid rubber wheel)

A good wheelbarrow will cost $100 and up, but can often be rented.

How many wheelbarrows full of concrete will it take to do my project?

1 yard of concrete = 12 full wheelbarrows - but often, you will not be able to completely fill the wheelbarrow, so plan on making more trips than 12 per yard of concrete.
Minneapolis Concrete Home

›Concrete Wheelbarrow



Concrete Tools

› Wheelbarrow
License # BC721668